Electrician Arrives To Fix Elderly Woman's Ceiling Light, Then Helps Fix Her Entire Home — For Free
Last Update: September 24, 2020 at 12:38 pm
SOURCE:  Sunny Skyz
DATE:  Sept 21, 2020
Electrician Arrives To Fix Elderly Woman's Ceiling Light, Then Helps Fix Her Entire Home — For Free
An electrician in Woburn, Massachusetts who was called upon to fix an elderly woman's ceiling light has now raised more than $100,000 for much-needed repairs to her entire home.
Last month, Gloria Scott, 72, called John Kinney to fix a ceiling light, but he soon discovered that the broken light was the least of her problems.
"Last week, I met a nice old woman that lives all alone in Woburn. She has no internet or cell phone. When sparks started shooting out of her light fixture, she went to a neighbor, and they gave her my number. When I arrived at her house I discovered that the electrical was in very bad shape. Half her lights were out, she had no stove, and her refrigerator was plugged into an extension cord. I fixed her immediate electrical hazards and got her lights and air conditioning on. When all the lights came on, I saw that her ceilings were falling apart, her kitchen sink was broken, and that the place was filthy. She told me that critters often got in the house. The outside was no better. Gutters were falling down and it was surrounded by a jungle. She has no family, and money is tight."
Kinney returned to her home and started working for free. He also started a Facebook page titled "Nice old lady needs help" where he called on other tradespeople to join him.
They've been at it about a month now, putting in all new electrical, all new plumbing, new windows and walls and ceilings. Almost everything is getting replaced, from the back yard lawn to the front porch steps.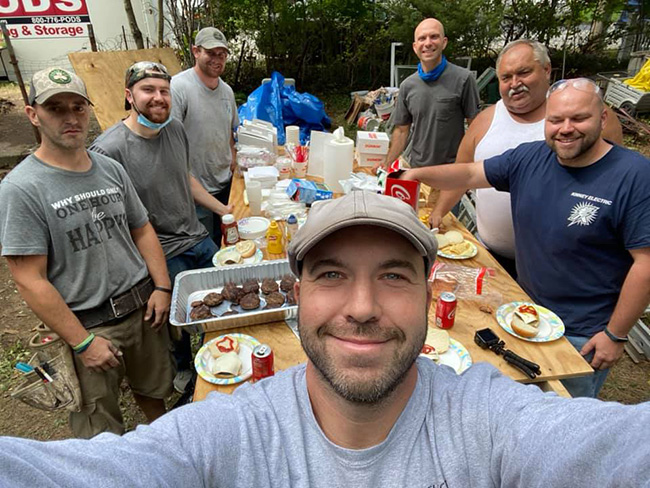 Gloria's Gladiators
The whole town of Woburn is pitching in. People without specific trade skills are showing up with shovels and rakes, sending gift baskets and purchasing meals for the volunteers.
So far, Kinney has raised more than $100,000 to help pay for materials. Over 2,000 people have donated to the good cause.
"I can't even comprehend the gratitude that I have," Gloria said.
Kinney is equally speechless.
"It's just — there's no words for it, you know," he said.
Kinney has since launched a Facebook group named "Gloria's Gladiators". It consists of professional tradesmen and volunteers that can be called upon to help out any elderly person in need.
He said he would like to see chapters of Gloria's Gladiators across the country helping seniors in similar circumstances.
FULL STORY:    https://www.sunnyskyz.com/good-news/3960/Electrician-Arrives-To-Fix-Elderly-Woman-039-s-Ceiling-Light-Then-Helps-Fix-Her-Entire-Home-For-Free