9-Year-Old Girl's Small Act Of Kindness Snowballs Into Major Volunteer Project
Last Update: April 10, 2021 at 6:38 pm
SOURCE:  Sunny Skyz
DATE:  April 9, 2021
9-Year-Old Girl's Small Act Of Kindness Snowballs Into Major Volunteer Project
An act of kindness by 9-year-old Hana Fatima at an Ontario grocery store last year has since snowballed into a major volunteer project to help seniors and people with disabilities.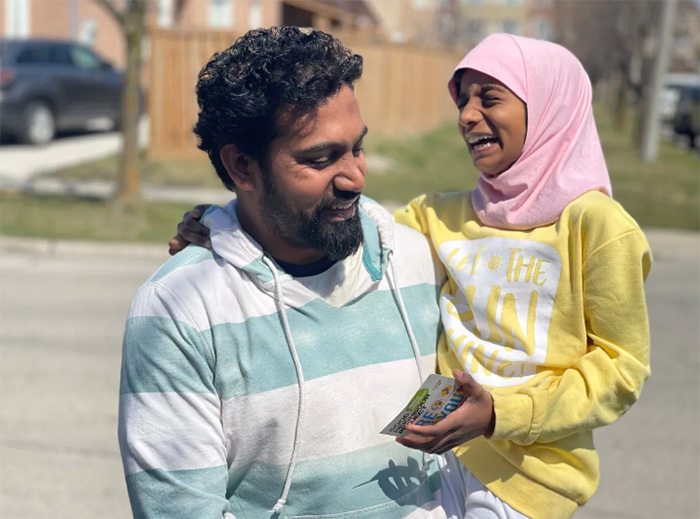 Hana Fatima and Tariq Syed / Credit: CBC
In March 2020, just two days before Ontario's first lockdown, Fatima and her father, Tariq Syed, were at the grocery store trying to stock up on toilet paper and other necessities.
"I was panic shopping, to be honest," recalled Syed. "Naturally, I was focused on me and trying to get my list as quickly as possible."
He remembers people having some difficulty, but it wasn't something he was paying attention to. That is, until Fatima noticed an elderly woman in the check-out line struggling with her groceries.
"It made me think of my grandparents," Fatima recalled. So, she pointed the woman out to her father and the two offered to help carry her purchases to her car.
It was a simple act of kindness, but the woman's reaction stayed with Fatima.
"She got really happy," Fatima told CBC.
When they got home, Fatima and her father decided they wanted to help more seniors.
Together, they launched The Good Neighbor Project, a volunteer delivery network that connects available, able-bodied individuals with people in need.
The way it works is simple: someone posts a callout looking for a volunteer to run an errand or make a delivery; group members who are willing to take on the task sign up in the comments; and presto: community-organized assistance for people in need.
So far, more than 6,000 volunteers have contributed over 22,700 hours and helped over 8,600 isolated seniors, persons with disabilities, and other vulnerable persons.
"It's just a network of good-hearted Canadians who came together to help the community during unprecedented times," Syed said.
"When I saw the elderly person, I thought that was my opportunity to go and help somebody," Fatima said. "Because whenever you get a chance to be helpful and kind, you just go and do without thinking about it. Everybody should do that."
FULL STORY:  https://www.sunnyskyz.com/good-news/4220/9-Year-Old-Girl-039-s-Small-Act-Of-Kindness-Snowballs-Into-Major-Volunteer-Project