'A Match Made In Heaven': Teen Swimmer Becomes Blind, Trains For Paralympics With Guide Dog
Last Update: September 24, 2020 at 12:44 pm
SOURCE:  Sunny Skyz
DATE:  Sept. 2020
'A Match Made In Heaven': Teen Swimmer Becomes Blind, Trains For Paralympics With Guide Dog
After battling anxiety and depression from losing her eyesight, Anastasia Pagonis found joy in competitive swimming again with a little help from man's best friend.
New York resident Anastasia Pagonis was 14 when she lost her sight within 2 months.
"Being a teenage girl is hard, so having that on top of it was just such a struggle for me," Pagonis told TODAY. "It took me about eight months to kind of regroup myself, and then I got it in my head, 'Okay, I'm blind. Now what am I going to do with my life?'"
Swimming was the answer.
Pagonis had taken up swimming just 6 months prior to losing her eyesight but knew it was her "happy place."
The mid-distance freestyler, now 16, has racked up impressive wins, including two gold medals at the World Para Swimming World Series in Australia earlier this year.
Then she got a call about partnering her with a guide dog.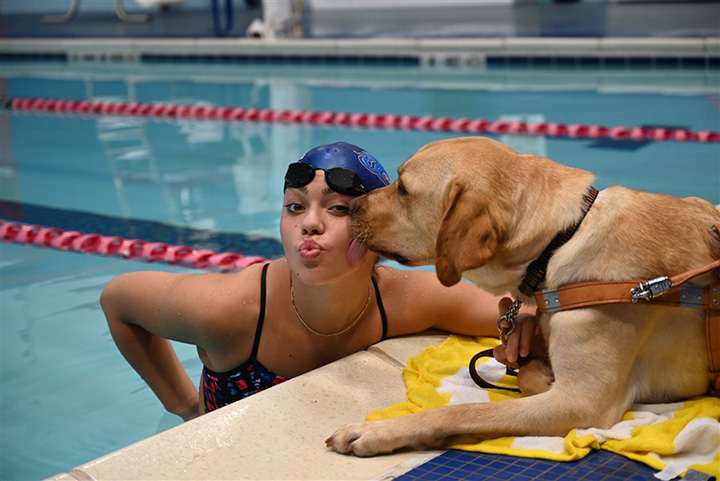 Guide Dog Foundation
The Guide Dog Foundation paired her up with a Labrador named 'Radar' who was raised by a professional hockey team.
Radar became the first "Puppy with a Purpose" for the New York Islanders.
Pagonis and Radar trained together for several hours for about 10 days. Then, on Aug. 19, they officially teamed up.
"Having Radar has just given me so much independence and I'm literally in love with him. He's the best thing ever," she said. "We're a match made in heaven."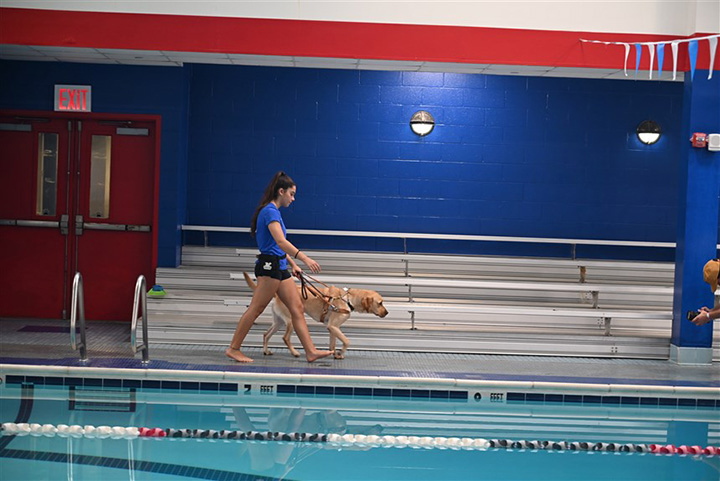 Guide Dog Foundation
Pagonis and Radar recently traveled to Colorado where the teen is training with other top athletes for the 2021 Paralympics in Tokyo.
"This week I am officially moving with Radar to become a resident athlete at The Olympic Paralympic Training Center in Colorado," she wrote on Instagram. "This was a huge and scary decision for me. But sometimes you need to take a leap of faith because if you don't try, you don't know. Always follow your dreams."
FULL STORY:  https://www.sunnyskyz.com/good-news/3955/-039-A-Match-Made-In-Heaven-039-Teen-Swimmer-Becomes-Blind-Trains-For-Paralympics-With-Guide-Dog